A Village-Making Death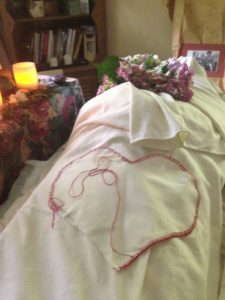 One year after my friend Marcy learned she would die decades sooner than she would have liked, she wrote a letter to the core group of women she called her Sisterhood.
"Death is not my friend but it is no longer my enemy," she wrote.  "It is our collective reality and I may get to model walking into it first. I hope that the way I walk there, protected and emboldened by a cape made up of your love, will better prepare you for your own journeys."
She did that, in part, by making sure the labor surrounding her dying was shared. Her sister would sew her shroud. Her brother would craft a lowering board from a tree harvested and milled on his farm. We would bathe her after her death, carry her to her grave, hand lower her into the earth, and fill the hole with flowers, tears, mulch, and dirt.
Of her gravesite, she said, "Visit often. Make it a place where you problem-solve dilemmas, process new adventures, keen and celebrate the many transitions in your own life. Come alone. Bring others. Young people, scared people, irreverent people. Keep me as present as you can. I truly believe that I will feel and treasure this. Maybe some of you will rest near me when the time is right."
Since Marcy's burial, three years ago this coming June, I have visited often, have brought others. And have heard often from those who were part of her dying how changed they were from walking alongside her.
And so I was pleased to see the following subheading in an article circulated on my social media feed, a lengthy piece published by a Canadian paper about various aspects of death phobia and the movement that seeks to counter it.
When the community becomes involved in a death, everyone benefits
At the end of the article, the journalist introduces us to Polly, a 91-year-old woman who had "received permission to die at home" after two strokes. Her daughter Monica Plant, however, was already "deeply fatigued" from being her parents' live-in caregiver for nearly seven years, including through "the emotional and daunting process of providing end-of-life care for her father," who had died at home six months earlier.
Knowing she couldn't do that again, alone, Monica was willing to burden others. The article describes what unfolded:
"Plant reached out to her neighbours, her out-of-town siblings, and parishioners at Polly's church. Plant's neighbour went door-to-door along Undermount Avenue, asking residents if they would like to help ease Polly into her final weeks of life.
"Within days, Plant's support system grew to 25 households who would visit with Polly, do yardwork, bring meals, and providing Plant with some comfort and respite. Neighbours circulated emails containing meal plans and visiting schedules and swapped stories about how good it felt to come together as a community.
"'(Polly) was somebody who liked things to happen organically, and that's how it happened,' Plant said. She compares the effort to an urban-barn raising — a constructive, collective effort that allowed her mother to die in the comfort of her home.
"The experiences enriched both Plant and her neighbours. As well as creating an interconnection between those who were involved in Polly's care, it offered a glimpse of what we will all face at the end of our lives.
"'What I think the byproduct of being able to die at home was that people on the street got to see what aging looks like. This is what happens at all the stages,' Plant said. 'If you're taken out when you're retirement age and you go off to a retirement home, the neighbourhood doesn't get a chance to see what happens when you age.'
"Polly died at home on Nov. 30, 2016, in the arms of Plant and her twin brother — the way she had always wanted."
Compassionate Communities: An Australian Experiment
Also in my social media feed: a new initiative of The GroundSwell Project and Palliative Care Australia called Compassionate Communities: "a whole of community approach to end of life care where caring for one another at times of need, loss and/or crisis becomes the task and responsibility of everyone."
What are Compassionate Communities?
They are citizens who are knowledgeable and informed about death, dying, loss and care and adapt their practices and behaviour to meet needs that they encounter in their everyday lives. Services and local authorities play a significant role in providing and sustaining quality end-of-life care, but people from all walks of life should be involved in designing suitable end-of-life care policies that meet their needs.
The organizing group plans to work with up to 8 communities of practice for over two years by supporting them with mentoring, tools and advice.
In my own small way, I'm beginning something of the same, engaging in ongoing conversations with a small range of communities who are asking, What does it mean to die in community? Who are we to each other, when it comes to death and dying? How can our going out from amongst each other leave our communities stronger? This month, members of those communities will begin comparing notes, learning from each other – with me, wondering alongside them.
See also: The Perils of Autonomy & Independence & Dying in Community