POSTPONED: An Evening with Grief Rites at Lone Fir Cemetery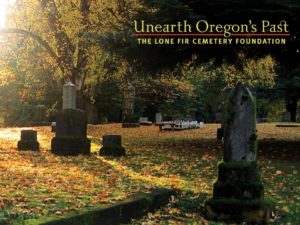 Note: stay tuned for the new date; this event has been postponed due to a death in the organizer's circle.
As a former member of the Lone Fir Cemetery Foundation Board, I was happy to play matchmaker between this storied cemetery in SE Portland and the Grief Rites Readers Series (recently lauded by Portland Monthly).
On August 27, Grief Rites presents an open-air evening of community & connection through storytelling and music that embraces grief and inspires love.
The invitation: Gather with us at Lone Fir to honor love, loss, & life. This evening will be a sacred container holding our collective grief. Bring a blanket or chair, pack a picnic. Settle in for an evening of grief, love, and everything in between. You're invited to bring an object of meaning to place on a shared community altar, which will be created in the space.
Visit the Grief Rites Facebook page for details of the Lone Fir Event along with the regular monthly reading at Post 134 on August 8th.