Keeping Our Dead Afloat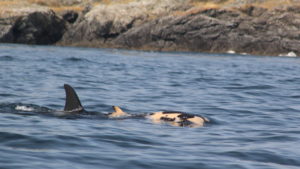 A mother orca's devotion to her dead calf raises questions about how we humans carry our dead
The internet has been abuzz with news of a mother whale who for a week now, "has been carrying her dead calf on her head in an apparent act of mourning with the help of her group."
As reported by NPR, The Whale Museum's Jenny Atkinson says, "The thing that's amazing about Tahlequah is that she's … carried this calf hundreds of miles and hundreds of hours at this point, and her family is helping her."
We humans continue to be astonished at the sentience of other beings; Atkinson says, "The first thing it tells me that is that grief isn't owned by humans." Rather than marvel that this grieving orca is "like us," we might do better to wonder how we ourselves have moved so far from carrying our own dead, keeping them afloat in the ongoing stream of our lives, and counting on the help of our people, our pod, to do this heavy lifting that is more than any one should bear alone.
Our emphasis too often is on "closure" rather than on how we continue caring for our relationships with our dead. We outsource the care for our dead to professionals, be they old-school funeral directors and crematory operators or the newer flavors of death doulas and midwives. Even our DIY approaches to death can enshrine self-sufficiency – my death, my way, a far cry from what we're seeing in the Salish Sea.
The orca is the largest member of the oceanic dolphin family. Dolphins join elephants, apes, and humans as the only animals known to recognize their reflections in a mirror. According to Scientific American, elephants can recognize and keep track of the location of as many as 30 companions at a time. The researcher says, "Imagine taking your family to a crowded department store and the Christmas sales are on. What a job to keep track of where four or five family members are. These elephants are doing it with 30 traveling-mates."
There are numerous accounts of elephants grieving: shedding tears, standing vigil over their dead for as long as three days, traveling long distances to visit the bones or dying grounds, moving the bones, perhaps even trying to bury' them.
To carry a dead baby for a week, to stand over a corpse for three days – these acts seem strange to us now, in an age when funerals have been rebranded as Celebrations of Life and 90 minutes might well be considered too long, and many of us have never been to a cemetery. And yet these forms of mourning are part of our heritage too: harrowing, distressing, asking more of us and of each other than we might think possible, binding us unmistakably to the great wheel of life from which we so easily now become untethered.