Other Events: Summer 2017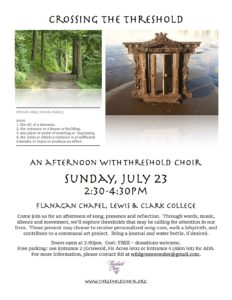 Death Talk Project sponsors these regular events: Death Talk Goes to the Movies and PDX Death Cafe. Check out what these good folks are offering in the coming months:
Grief Rites is a monthly literary showcase about all things grief, loss, death and dying. Post 134, 2104 NE Alberta St, Portland.
Saturday, June 24, 7pm, Clinton St Theater, fundraiser for Death Talk Goes to the Movies. Details.
Sunday, July 23, 2:30pm, Lewis & Clark College, An Afternoon with the Threshold Choir. Details.
We're happy to publicize events offered by others in the community in exchange for reciprocal promotion of the Death Talk Project.
Event archive (what's come and gone…)
Thursday, October 6, join Death:OK presenters Jodie Buller and David Noble, with other panelists, for Innovative, Creative End-of-Life Rituals: New Thoughts, New Paths, New Choices. This is the Northwest Association for Death Education & Bereavement Support's quarterly gathering at the 18th Avenue Peace House in Portland, 11:30am-1:30pm. More information.
October 6-9: Death:OK presenter Charlene Ray offers Living, Dying and Beyond: A Quest with Nature at Ekone Ranch, Goldendale, WA (home of White Eagle Memorial Preserve). This 4 day intensive, which includes a 24 hour solo quest on the land, explores death in a way that enables us to live a more full and vibrant life. Information & registration: Charlene, 360-320-4443, soulwisdomguide@gmail.com.
Monday, October 10: End of Life Doula Services offers a monthly discussion in SE Portland: Final Talk: End of life doulas-Complements to hospice.
October 17-December 5 on Monday Nights: Death:OK presenter Jennifer Wohl offers The Art of Grief, an 8-week group for widows and widowers, in NW Portland.
October 19-November 16 on Wednesday Nights: Death:OK presenter Shelly Sweeney offers  Write Through Death: A Writing Workshop, in NE Portland.
October 22: A Community Ritual of Grieving offered by Syren Nagakyrie and Kirsten Hale, in Portland.
October 27: Death Talk Project founder Holly Pruett joins local author Casey Jarman for the launch of his book Death: An Oral History, Powell's on Hawthorne, 7:30 pm.
October 28: Taps for Babies at the Portland Veterans Hospital. Read about last year's inaugural event and share on Facebook.
October 28-29: Living Earth presents Healing at the Edge: Living & Dying, an evening talk and day-long workshop with Dale Borglum in Portland. Death Talk Project is pleased to cosponsor this event. More info.
October 29: All Souls Day Work Party and Ceremony, White Eagle Memorial Preserve. Wear sturdy work clothes, bring gloves and hand tools, and objects of remembrance for our Lodge altar and the Ceremony blanket. WEMP stewards will be available to answer questions about natural burial. 10am-4pm RSVP with Jodie: whiteeagle@ekone.org
November 4-5: Tree of Living & Dying: a Gathering for Sacred Story in Ashland, an evening Sacred Story Ceremony and day-long Contemplative Retreat on Mortality offered by Spirit of Resh Foundation and cosponsors including Death Talk Project. More info.
November 12: An Exploration of Grief through Tea Ceremony & Meditation with Leora Marialicia González. 5-7pm, NE Portland. More info.
December 4: Stories for Bowie: A Party. A Jam. A Potluck. 5:15-8:01pm, SE Portland. More info.
December 9: Death:OK presenter Jessica Thomas PhD, LMFT offers a course for counselors, therapists and other practitioners, Treatment Issues in Death, Loss & Grief: A Systems Perspective, through Lewis & Clark Continuing Education.
January 5, 11:30am-1:30pm, It's Never Too Late: Bereavement Ceremonies Months or Years After Death Occurs. I'm honored to serve as guest presenter for the second time for the quarterly meeting of the NW Association for Death Education & Bereavement Support. All are welcome. Details.
January 12–February 23, 2017: Cease Not Until Death: a 6 week class
March 5, 2017: Celebrate Silas Memorial 5K to benefit the Dougy Center. Online registration opens December 5, 2016. Learn more about Silas and how his mother created a place for the community to come together to honor grief.
March 29-April 29: Your Life. Your Death. Your Choices. A Six Event Series organized by the Living/Dying Alliance of Southern Oregon.
May 6-June 3: Understanding Death & Dying: Facing Mortality with Courage and Insight, a four-week class on Saturday mornings with Kris Gould through Portland Underground Graduate School.
May 7: LIVE PERFORMANCE OF A FINISHED HEART.  A Finished Heart features story, poetry and an original musical score. More info.
May 9: A Good Death: A personal blueprint hosted by End of Life Doula Services. Register.
May 13: Motherless Mother's Day Ceremony & Potluck in Portland with Shae Uisna, or create your own using Shae's guidelines. RSVP.
May 13: A Healing Ceremony for Women Who Have Lost Children with Heather Michet & Georgena Eggleston. Register. Download a flier.
May 20: Tree of Living & Dying: A Gathering for Sacred Story hosted by Spirit of Resh Foundation in Ashland. Download a flier.
May 31-June 4: 7th Annual Death and Afterlife Awareness Conference, coming to Portland with a May 31 kick-off event co-sponsored by the Death Talk Project: The Dilemma of Death & Language of Loss: A Conversation. Use the promotion code "HP" for $10 off general admission to the full conference.
June 8, Kindred Hospice presents Deborah Grassman leading a day on Soul Injuries including sessions on Forgiveness, and PTSD and Trauma Integration, and a Caregiver Restoration Ceremony. OHSU in Portland. Download a flyer.
June 17-18, Dr. Ingrid Rose presents Living with Dying: Meaningful Encounters at End of Life, a process-oriented workshop wherein participants will explore and learn ways to communicate with those in remote states of consciousness, including the seriously ill, the comatose, and the dying. Dr. Rose has a private therapy practice, is a faculty member at the Process Work Institute in Portland, OR, and for decades has offered Comawork and palliative care training and workshops throughout the world. Northwest Portland. Download a flyer.