Skeletons Out of the Closet: Body Farms & Final Wishes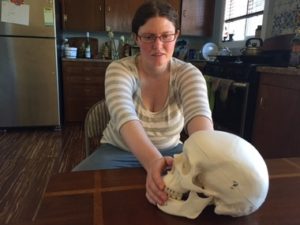 How a young widow honored her husband's unusual wishes, and her quest to find other young, widowed parents
Nicaraguan-born Frank Omier was a gifted artist who lived and painted all over the world. His wife Emily thought she knew the perfect present to get him for Christmas. As she told The Oregonian, "I was going to get him an easel. He wanted a skull, instead."
Frank had a passion for anatomy and knew, long before his lymphoma diagnosis, that when he died, he wanted his skeleton to be used for artistic study. Emily never dreamed she'd have to make those arrangements only seven months into Frank's illness, his death coming two months after the birth of their daughter, Sofia.
In those first desperate, grief-soaked hours, Emily called the Art Students League of New York and followed a bread crumb trail. The name of another artist who had donated her body led Emily to a body farm – an academic research facility in North Carolina studying decomposition – where Frank's skeleton would spend three years emerging from the soft tissues of his body.
Aside from the birth of her daughter, Emily described the arrangements as "the first thing that had gone right in my life for seven months. I couldn't keep him alive. I couldn't do anything to help him survive his cancer, and that was really frustrating. But I can do this. I can make sure this happens."
While Emily awaits the day when she and Sofia can attend the arrival of Frank's skeleton in New York, she is curating exhibits of his work, establishing a foundation in his name, and thanking the people who helped during and after Frank's death.
And now she's reaching out to others who share something of her experience. "I want to focus on healing and remembering," she tells me. "But I feel like it's a journey I don't want to undertake completely alone. "
After reading Saturday Night Widows, a book about a group of widows who meet once a month to have fun together, she realized she longs for something like that, but with people her age (32), preferably also with young children.
If you have leads in the Portland area, or want to support Frank's legacy, please contact Emily through the web site devoted to Frank's work.