Tree of Living & Dying: a Gathering for Sacred Story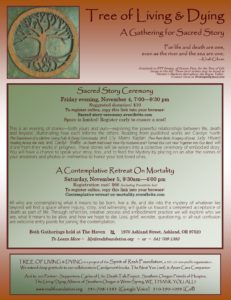 Ashland, in early November, will host a Sacred Story Ceremony and Contemplative Retreat on Mortality. Offered by Death:OK presenter Spirit of Resh Foundation and a group of collaborators, the Tree of Living & Dying includes an evening of stories on November 4, and a day of reflection, creative process and embodiment practice on November 5.
Participants are invited to feed the Mystery by placing on an altar the names of ancestors and photos or mementos to honor loved ones. Loss, grief, wonder, questioning, or all-out confusion are welcome entry points for joining the contemplation.
Death Talk Project is proud to support this event as cosponsor. Space is limited. For tickets and more information: