Dying in Community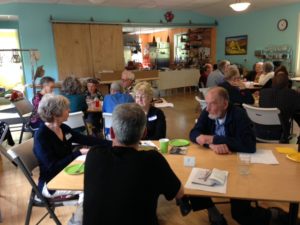 An antidote to "My life. My death. My way."
While considering one's death has been central to many spiritual and cultural traditions through the ages, the modern incarnation in our individualistic, me-first society can become something of a vanity project.
"Get the funeral you want by planning it yourself" is one guidebook's promise. ("Put the F-U-N back in funeral!") It's an understandable impulse at a time when institutional, commercially-directed funerals have become such a bad brand that many (my father included) don't want to see a penny wasted on rites or ritual to mark their death.
The idea that one's death is solely "our own" is an assertion unique, I'm pretty sure, to this time and place in the world. How might our deaths be about more than ourselves, tethered to the wheel of life, embedded in community?
The "When I Die Dialogue"
Dying in community was the focus of the inaugural "When I Die Dialogue" hosted at the Columbia Ecovillage cohousing community by my friend and colleague, Don Tarbutton. Attended by members of Don's residential and extended communities, participants shared stories of the deaths that had been their teachers and considered the question, What does it mean to be a family/ community when death occurs?
"Several of us stated that one criterion for our own funerals was 'minimizing the bother/hassle' to those charged with conducting our funerals. Few of us had considered the possibility that a home funeral might actually be a gift to the community… an opportunity to connect to one another and experience an essential part of the human experience." ~ workshop participant
Using a set of worksheets I've developed and a video of how my friend Marcy went out from among us, participants learned about caring for each other after death (minimizing or entirely eliminating reliance on a funeral home) and began to consider their own interest and willingness.
Perhaps most impactful was hearing directly from Don, who last year marked his 80th birthday with what's often called a "living memorial". Over several months, I had supported Don in considering and documenting his wishes for dying in community, with specific consideration to the community's role in bathing and dressing his body his body after death, sewing a shroud, holding a three-day vigil with his body in a communal space, transporting his body for burial, and handling the administrative paperwork.
"Involving my community in the care of my body and a home funeral after my death carries a strong sense of meaning and purpose. I want to die as I have lived within my community(ies), and provide an opportunity for the community to experience and learn from a significant participatory, and empowering final rite of passage for one of its members." ~ Don Tarbutton
"Opening a Window"
Columbia Ecovillage members left motivated to continue the conversation with the rest of their community. Others planned conversations with their family members. Some wondered about forming a club or committee dedicated to building the capacity for community members to care for each other after death outside the framework of personal social capital.
Further reflections after the workshop addressed our cultural tendency to "think of death as a more private experience" making the question of community impact and involvement "a very provocative question for many of us who are somewhat private and inward by nature." Another participant offered this: "Maybe part of the reason we feel helpless and afraid of death is because the whole process is controlled by professionals."
The most frequently cited word to describe the afternoon workshop was "motivating". Other descriptors: well planned, jam packed, enjoyable, informative, inspiring, riveting, expanding, helpful. Several said how honored they were to attend, how honored they are "to be part of Don's community."
Contact me to explore hosting a "When I Die Dialogue" in your community: deathtalkproject@gmail.com
Explore the excellent resources on the National Home Funeral Alliance web site and consider attending their Sept 22-24 conference outside Washington, DC.
How we care for the dying people in our midst, and how we die when it is our turn: these together are the proving ground, the cradle and the grave both, for every conviction we have about justice and mercy, about the meaning of life, about what love should look like and what it should do. They are the sum of every political instinct we have, every dream of community we've nursed along and every faith we've been willing to have in a better day….They are surely where our love of life earns its keep, or shatters. Mostly, though, they are the place where our ability to be a people is forged, or fails. They are where our village is made or broken. ~ Stephen Jenkinson