Introducing the PDX Death Cafe Leadership Team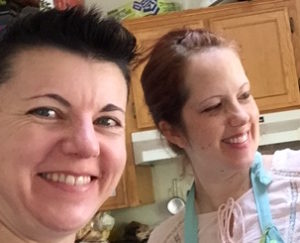 Since co-founding PDX Death Café early in 2013, I've produced or supported more than three dozen Cafés. During that time, PDX Death Café has been acknowledged as the largest among the 30+ countries worldwide that are hosting these amazing participant-directed discussions.
Now, with the Death Talk Project sponsoring PDX Death Café (along with related events like our monthly movie night), I am thrilled to introduce the new PDX Death Café Leadership Team.
Meet the PDX Death Cafe Leadership Team
Kate Brassington, Co-Chair, Facilitator since 2013, Lover of Life, Friend of Death. "I go to the Death Café for so many reasons, but especially for the authenticity that talking about death inspires in people."
Lori Stevens, Co-Chair, Facilitator since 2015, Artist, Environmentalist. "I go to Death Café to appreciate the bond that is so quickly created between strangers, to experience the vulnerability that comes with that, and because I always leave a Death Café feeling incredibly alive."
Rory Bowman, Trainer Consultant, Educator. First Death Cafe in 2013. "Comfort with death makes life more poignant, and I love to share that."
Ames Elliot, Funeral Celebrant, Death Midwife, Health Research Geek. "Why do I go to the Death Café? Where else can you hear stories that make you laugh through tears?"
Sandy Hart, Attended the third PDX Café and have been facilitating since then. "I go to the Death Café because I believe in the power of community in bringing conversations about death and dying back into our culture."
Holly Pruett, Co-Founder & Sponsor, Life-Cycle Celebrant, Home Funeral Guide, Conversation Leader, Consultant. "I am always so moved by what we can hold in the space between us as humans, if we just give each other the chance – that's what keeps me coming back to the Death Café."
Building Capacity in the Portland-Vancouver Metro Area
The newly-formed Leadership Team is working together to ensure that PDX Death Café continues to bring the conversation on death – specifically the safe, inclusive, open-ended conversation offered by the Death Café model – out into the community. Along with actively supporting community members and organizations interested in hosting their own Death Café, the Leadership Team has recruited a core group of facilitators who've made a one-year volunteer commitment. The Team is also exploring the possibility of offering more specialized Cafés (e.g. for youth or people with a terminal illness), and providing more support for our facilitators.
Contact the Team: pdxdeathcafe@gmail.com