Monthly Film Night Comes to an End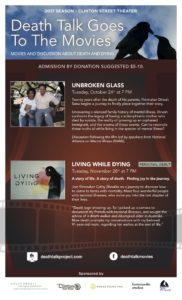 Death Talk Digest readers know better than most that all good things must come to an end. And so it is with our monthly film and discussion series, Death Talk Goes to the Movies – we're calling it quits after three great years of gathering on the 4th Tuesday of most months at the Clinton Street Theater.
If you're in Portland, please join us for our last two months of events…
On Tuesday, October 24th we'll screen the documentary Unbroken Glass, and discuss its depiction of suicide and mental illness with speakers from National Alliance on Mental Illness (NAMI).
For our grand finale on November 28th, we'll come full-circle for the Personal Debut of filmmaker Cathy Zheutlin's Living While Dying. Cathy has served as co-curator of this series since she told me, when we first met at a Death Café, that she was working on a film about dying and was eager to see what else was out there. "Well, how about a series of public screenings?" I asked. And the rest is history…
Check out other upcoming events, and stay tuned, in the coming months, for more on what's next from the Death Talk Project.