An Afternoon with the Threshold Choir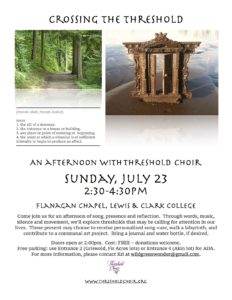 Crossing the Threshold: Sunday, July 23 in Portland
Over my years as a Celebrant and Home Funeral Guide, I've had the pleasure of collaborating with the Threshold Choir a number of times – even receiving their soothing song-presence myself, in a time of depletion. (Read more in my post Swaddled by Song.)
Now, as part of an international gathering of Threshold singers, they're issuing this invitation to you:
Come join us for an afternoon of song, presence and reflection. Through words, music, silence and movement, we'll explore thresholds that may be calling for attention in our lives. Those present may choose to receive personalized song-care, walk a labyrinth, and contribute to a communal art project. Bring a journal and water bottle, if desired.
Details
Sunday, July 23, 2:30-4:30pm
Flanagan Chapel, Lewis & Clark College
Doors open at 2:00pm
Cost: FREE ~ donations welcome
Free parking: use Entrance 2 (Griswold, Fir Acres lots) or Entrance 4 (Akin lot) for ADA.
For more information, please contact Kri at [email protected].