No Crying in Front of Her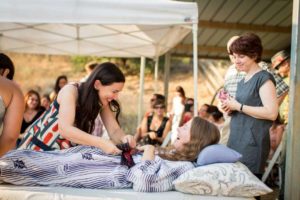 Earlier this month my news feed filled with the headline Terminally ill woman holds party before ending her life. As someone who believes in the importance of funeral and bereavement ceremonies, I was intrigued by how Betsy Davis, a 41 year-old artist with ALS, had approached her final days before being one of the first to use California's new medical aid-in-dying law.
I read her sister's account of the weekend-long event, What I Learned Helping My Sister Use California's New Law to End Her Life, and one by her friend Kestrin, The Art of Departure. I was moved to tears by the details, by imagining what they experienced together. What Betsy termed her "rebirth," friends described as "the final performance for the artist, who once drew pictures on a stage with whipped cream"… "the most beautiful death that any person could ever wish for…. By taking charge, she turned her departure into a work of art."
But I was also struck by the "one rule" Betsy laid out for her invited guests: "do not cry in front of me."
Kestrin writes, "We understood our job was to have as much fun as possible, so she experienced authentic joy in her final hours. All jokes must be actually funny. All laughter, legit. We would not eff this up."
The eye-witness portrayals of Betsy's Rebirth Ceremony make it achingly clear that grief was there among them.
"Betsy's suffering was palpable beneath the joy. Layers of fatigue and disappointment behind her eyes as she tried to communicate. Days earlier she'd texted a friend, 'I am so ready to leave this body.'"
Tears were shed, most assuredly – just away from Betsy's view.
Betsy's story and the three deaths in my own inner circle this past year keep me wondering. Is our notion of a good death a happy death? Does our modern emphasis on Celebrations of Life preclude grieving the end of our days in community? Does grieving with a dying person ask too much of them?
I don't know what I would do in Betsy's condition. I'm grateful to her, and to the story-tellers who shared their experience of her death, for giving us all a chance to wonder.