Registration open for Earth Day Natural Death Care Symposium

If you're interested in…
Green/ natural burial – urban & rural options
Family-directed death care/ home funerals
Meaningful memorialization and creative remembrance rituals
Making a plan for your own wishes
Connecting with others who want their death to reflect the values they've practiced in life…
Register today to attend all or part of this day of learning & conversation – in Portland on April 9 & in the Columbia Gorge April 29-30.
Natural Burial, Family-Directed Funerals & Rituals of Remembrance: 3 workshops, a film, conversation, site tours & lunch.
Attend all or part of our day-long program in either location. Reserve your space today.
Learn more about the workshops, site tours, film screening, schedule, presenters, and registration details. Download a flier.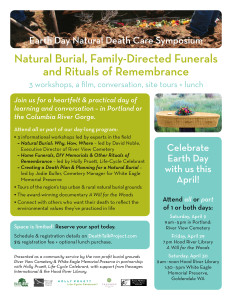 Presented as a community service by the non-profit burial grounds River View Cemetery & White Eagle Memorial Preserve in partnership with Holly Pruett, Life-Cycle Celebrant and Home Funeral Guide, with support from Passages International and the Hood River Library's Grave Matters discussion series.