Washington Funeral Resources & Education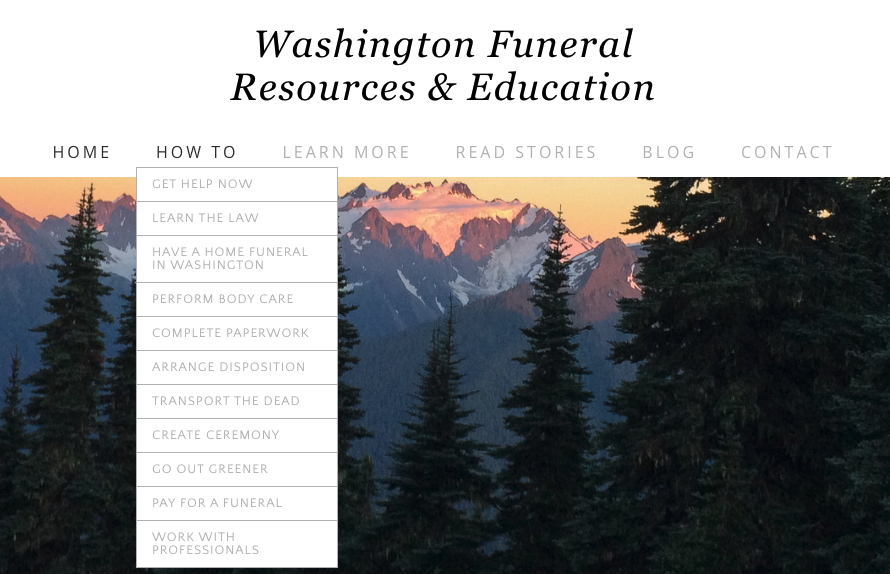 In Washington, as in most states, no one is required to purchase the services of a funeral director or funeral home when a death occurs. Many don't know that families and community members may conduct most of the tasks commonly performed by a funeral home. This new non-commercial, pubic interest website aims to fill that information gap.
In addition to detailing death care law in the state, Washington Funeral Resources & Education walks readers through the practical "How Tos" of whichever aspects of after-death care they want to handle, and provides guidance in how consumers can get what they want from professionals they hire or authorities they encounter when a death occurs. The site features stories of how others have cared for their dead and concise, professionally-specific in-service training materials along with resources for use in community education.
The site has already expanded access for Washingtonians wanting to handle death certificate filing without hiring a funeral director. After our team initiated outreach to the Department of Health to highlight the discrepancy between Washingtonians' rights under the law and the current practice of restricting filing to professionals with EDRS access, DOH published a clarification titled Families Acting as Funeral Directors. (Read more.) The sister website, Oregon Funeral Resources & Education, has spurred changes in hospital body release and family information policies.
It's been my honor and privilege to work on this project with Jodie Buller at White Eagle Memorial Preserve; Lee Webster, who created the model and then built both the Oregon and Washington sites; the mourners and advocates who shared their stories; and the Washington organizations and individuals who provided research and review. (Read the full honor roll.)