Other Events: Fall 2017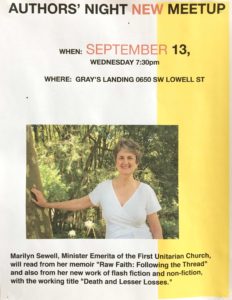 Death Talk Project sponsors these regular events: Death Talk Goes to the Movies and PDX Death Cafe.
Check out what these good folks are offering in the coming months:
Grief Rites is a monthly literary showcase about all things grief, loss, death and dying. Post 134, 2104 NE Alberta St, Portland.
Thursday, October 5, Animal-Assisted Interventions for Grief Support, with Catherine Beckett, LCSW, PhD. This is the Northwest Association for Death Education & Bereavement Support's quarterly gathering at the 18th Avenue Peace House in Portland, 11:30am-1:30pm.
We're happy to publicize events offered by others in the community in exchange for reciprocal promotion of the Death Talk Project.
Event archive (what's come and gone in 2017…)
January 5, 11:30am-1:30pm, It's Never Too Late: Bereavement Ceremonies Months or Years After Death Occurs. I'm honored to serve as guest presenter for the second time for the quarterly meeting of the NW Association for Death Education & Bereavement Support. All are welcome. Details.
January 12–February 23, 2017: Cease Not Until Death: a 6 week class
March 5, 2017: Celebrate Silas Memorial 5K to benefit the Dougy Center. Online registration opens December 5, 2016. Learn more about Silas and how his mother created a place for the community to come together to honor grief.
March 29-April 29: Your Life. Your Death. Your Choices. A Six Event Series organized by the Living/Dying Alliance of Southern Oregon.
May 6-June 3: Understanding Death & Dying: Facing Mortality with Courage and Insight, a four-week class on Saturday mornings with Kris Gould through Portland Underground Graduate School.
May 7: LIVE PERFORMANCE OF A FINISHED HEART.  A Finished Heart features story, poetry and an original musical score. More info.
May 9: A Good Death: A personal blueprint hosted by End of Life Doula Services. Register.
May 13: Motherless Mother's Day Ceremony & Potluck in Portland with Shae Uisna, or create your own using Shae's guidelines. RSVP.
May 13: A Healing Ceremony for Women Who Have Lost Children with Heather Michet & Georgena Eggleston. Register. Download a flier.
May 20: Tree of Living & Dying: A Gathering for Sacred Story hosted by Spirit of Resh Foundation in Ashland. Download a flier.
May 31-June 4: 7th Annual Death and Afterlife Awareness Conference, coming to Portland with a May 31 kick-off event co-sponsored by the Death Talk Project: The Dilemma of Death & Language of Loss: A Conversation. Use the promotion code "HP" for $10 off general admission to the full conference.
June 8, Kindred Hospice presents Deborah Grassman leading a day on Soul Injuries including sessions on Forgiveness, and PTSD and Trauma Integration, and a Caregiver Restoration Ceremony. OHSU in Portland. Download a flyer.
June 17-18, Dr. Ingrid Rose presents Living with Dying: Meaningful Encounters at End of Life, a process-oriented workshop wherein participants will explore and learn ways to communicate with those in remote states of consciousness, including the seriously ill, the comatose, and the dying. Dr. Rose has a private therapy practice, is a faculty member at the Process Work Institute in Portland, OR, and for decades has offered Comawork and palliative care training and workshops throughout the world. Northwest Portland. Download a flyer.
Sunday, July 23, 2:30pm, An Afternoon with the Threshold Choir, Lewis & Clark College.
Grief: A Photography Series is seeking volunteers. A collaboration between Celebrate Silas Memorial 5K founder Jodie Brauer (pictured above in a photo from the series) and photographer Jady Bates.
Sunday, August 20, 1-5pm, Journey Through Loss: Exploring Grief and Loss through the Archetype of the Labyrinth, with Anne Richardson, SE Portland.
Wednesday, September 13, 7:30pm Marilyn Sewell, Minister Emerita of First Unitarian Church, reads from her new book Death and Lesser Losses at Gray's Landing, S. Waterfront.
Saturday, September 16,1:30-3:30pm, Annual Meeting of the Oregon Memorial ​Association and Funeral Consumers Education Foundation, featuring Gretchen Brauer-Rieke on "The Best Gift You'll Ever Give – Talking with Your Family". Rose Villa Performing Arts Center. All are welcome. More info.