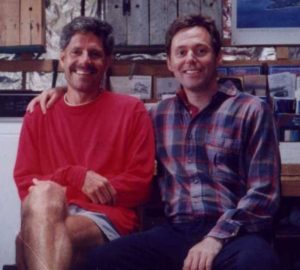 In advance of his Sept. 26 performance, a deeply moving, thought-provoking conversation with author and composer Eliott Cherry
On September 26, Death Talk Project presents A Finished Heart, written and performed by Eliott Cherry. A Finished Heart is a love story – a solo performance of real conversations between a dying man and his husband. A panel discussion will follow. Free admission, made possible in part by funding from the City of Portland and SE Uplift's Neighborhood Small Grants Program and the support of the Clinton Street Theater. Learn more.
When did you first conceive of A Finished Heart?
As soon as I knew Chris was dying, I wanted to keep him – and our marriage – alive and visible to the world. There wasn't so much a sense of conceiving, but of me being conceived by the boundless intimacy of caring for Chris and helping him die – born by it, I guess. Read More