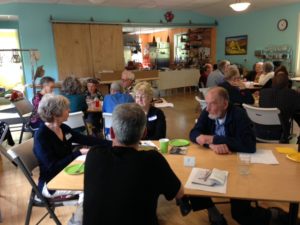 An antidote to "My life. My death. My way."
While considering one's death has been central to many spiritual and cultural traditions through the ages, the modern incarnation in our individualistic, me-first society can become something of a vanity project.
"Get the funeral you want by planning it yourself" is one guidebook's promise. ("Put the F-U-N back in funeral!") It's an understandable impulse at a time when institutional, commercially-directed funerals have become such a bad brand that many (my father included) don't want to see a penny wasted on rites or ritual to mark their death.
The idea that one's death is solely "our own" is an assertion unique, I'm pretty sure, to this time and place in the world. How might our deaths be about more than ourselves, tethered to the wheel of life, embedded in community? Read More