Remembering Together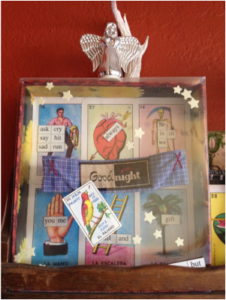 On All Souls' Day, a nod to Tucson's community remembrance ceremony, the All Souls Procession
"It's not just dying that modern America is losing touch with; it's death rituals as well," writes the Washington Post in the article "How Death Disappeared from Halloween".
Citing Anita Hannig, a Brandeis University anthropology professor whose study of contemporary death practices has brought her to Oregon and into my home for deep conversation, the article notes, "As the United States becomes increasingly secular, religion's role in making meaning out of death has shrunk. According to Hannig's research, memorial services are becoming less and less common, and a collective honoring of the dead — something like All Souls' Day — is practically nonexistent."
And so on this All Souls' Day, I tip my hat to the artists and culture makers, the multitudes of mourners who take to the parks and streets of Tucson for a weekend at this time every year, to Remember Together in the now 150,000 person All Souls Procession.
Self-described as "a sanctuary for community members from all walks of life to express their grief and loss in a celebration of creative energy and rejoicing of life," the All Souls Weekend, now in its 29th year, includes "myriad altars, performers, installation art, and creatives of all kinds [who] collaborate for almost half the year to prepare their offerings for this amazing event."
The first year Amber and I attended, many years ago, we stumbled onto the Procession by accident. In Tucson seeking respite from the gray skies of the Pacific Northwest, we emerged from an early dinner downtown to find swarms of face-painted, costumed people of all ages assembling, many with floats and banners, some with small personal altars. All there to remember their dead, to honor death as a part of the great wheel of life.
We followed the throngs to the eventual climax of the Procession, where a construction crane hoisted a giant urn bearing slips of paper bearing messages collected along the route into the air to be set aflame. I knew I wanted to return.
We flew back the next year without much thought to what participating in a more intentional way might look like. The day before the Procession I realized I wanted to make and carry an altar focused on my father's death.

Carrying the altar through the Procession moved me from spectator to participant. It connected me to the other bereaved who nodded in recognition or stopped me for a closer look: curious, empathetic, appreciative.
Three years ago, five month's after burying my friend Marcy, I decided to walk the Procession in one of Marcy's nightgowns. Marcy had many trademarks. Among them: her long, flowing skirts, her annual woodcut valentines, her little white dogs, and her flannel nightgowns. You'd see her in one of her voluminous Mother Hubbard nighties if you spent a holiday overnight with her, if you hosted her when she came to town to help you organize your neighbors against injustice, or if you visited her Facebook page in her final years.
Toward the end of the five years Marcy lived with Stage IV ovarian cancer, she began giving away bags of her things. There were several grocery sacks of these flannel garments. Did I want one? she asked one day. Of course, I told her. In fact, I'd take a bag or two and share them with the friends she called her Sisterhood.
The sacks of nightgowns sat in my basement. For weeks, I couldn't bring myself to launder them. Eventually I put myself to the task. Each nightgown I pulled from the bag seemed to carry an electric charge. I wept as I moved the load from washer to dryer. I knew I needed to do something more with them.
Amber agreed to join me. Picking two and packing them for our flight, my nervous system reminded me how much I still held from those five long years of Marcy's illness, treatment, dying, not-dying, and death. My first night in Tucson brought a vivid dream soaked in ancient images of the deaths our lives depend on.
The day before the Procession we stopped by Armory Park to visit the many personal memorial shrines set up in conjunction with the children's Procession of Little Angels. Scores of families had set out picnic blankets as their children got their faces painted, decorated cardboard strap-on angel wings, and wrote messages to deceased loved ones. Amber and I wrote prayers and placed them in the large urn that would go up in flames during the next night's grand finale. I spent some time chalking a heart on the pavement for Marcy. I submitted some words to be projected in the collective digital shrine.
The next day we drove to Sanctuary Cove to walk into the Tucson Mountains and then travel its rock-lined labyrinth. As I came to the center and touched the small cairn of stones others had assembled, I felt some of the heaviness slip from my shoulders; the cape of grief no longer knotted so snug at my throat.
We drove home to paint our faces and don Marcy's nightgowns. We pinned cards from her memorial service to the front of our frocks and headed off into the night to join an estimated 150,000 mourners in the streets. Mothers, grandmothers, grandfathers, dads, brothers, sisters, children; deaths from AIDS, diabetes, cancer; migrant deaths in the desert; LGBT deaths from hate crimes and suicide; deaths of endangered species – these and more remembered through costumes, floats, banners, signs, hand-carried altars, chants, music, and the final release of the Procession Urn going up in flames.
We returned to our casita for a final burning ritual of our own. We stripped off the nightgowns, scrubbed off our makeup, and then lit the memorial cards we'd carried in our casita's chiminea. In a final bow to Marcy, we ate a couple of pieces of pizza, her favorite comfort food.
See more photos from my last All Souls Procession in an earlier version of this story on my Celebrancy blog.